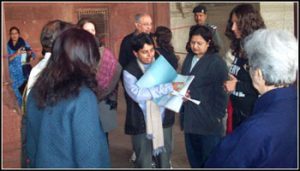 Surekha Narain leads Heritage walks in and around Delhi. She is a hard-core dilliwala, who has grown and evolved out of Delhi's unique heritage. As a conservationist, her objective is to bring about an awareness and concern for our built heritage by designing walks of well-known and lesser-known areas of Delhi and its surroundings. She is constantly exploring and coming up with new and imaginative walks :  The Ghalib trail in Shahjahnabad, the Paharganj walk around New Delhi Railway Station, and the 1857 Mutiny walk were featured in Delhi's leading newspapers. (For this please refer to the press reviews section).

SUREKHA NARAIN is a resident of Delhi with a long and celebrated lineage in the walled city area. Her early education for most parts was in Delhi. She then pursued a Finance Degree from the University of Glasgow, U.K. and thereafter a Certificate in Corporate Treasury Management, also from UK. Surekha has worked in the areas of treasury, compliance and financial consultancy in Delhi, Mumbai, Pune and Los Angeles.

In her spare time she engages in conservation and it's awareness (of both built and natural heritage) by organizing and conducting walks. Surekha started the walks for India Habitat Centre (IHC) over a decade ago. She also volunteers for INTACH to lead walks.
As an organizer, her objective has been to find the best resource person to lead walks of various types – monuments, historical, trees, birds, nature, heritage, museums etc. Mr. O P Jain, former Convenor, INTACH Delhi Chapter, never failed to organize a walk for the IHC Walkers, always relenting to her ever-increasing demands, along with conservation architect Ratish Nanda. On behalf of India Habitat Centre's (IHC) Walkers Group, she actively documented the conservation measures for Bijai Mandal and Begumpur Mosque, in joint coordination with INTACH. Nature enthusiasts Dr. Oswal and Ranjit Lal, and Trees expert Pradip Kishen keep her enthusiasm fueled. Shiela & Nik and Delhi Bird Society have shared photographs of Birds, for her to develop power-point presentations, for village and slum children. Mr. A.G.K. Menon, Convenor INTACH Delhi Chapter, now fulfils the role of Mr. O P Jain, and has introduced her to organizations such as ASI.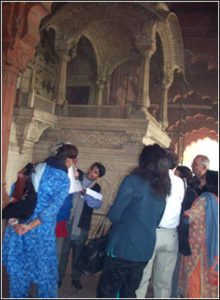 To create these walks, Surekha has been fortunate to interact with some eminent people in this field: scholar and historian, Dr. Narayani Gupta has been a source of inspiration with whom she has discussed many new walk ideas. Town Planner and Architect, Lucy Peck, now back in London, is still a friend and guide. Most maps that are displayed during the walks are made by her. Architect Rosemary Sachdev has evinced great interest in her work and has fine-tuned some important issues for her. Narain Prasad ji, Chairman, Indraprastha College for women and trustee of the IP Girls School, has much to share on the development of the education system in Delhi, especially for girls and women.
Surekha has grown up in an era where many interesting books on Delhi have been written. (Please refer to the bibliographies section for a list of useful books along with what she found interesting in each book.) She also meets and interacts with local people to offer them insight into, and make them feel connected to their built heritage. Their inputs are then confirmed with subject experts, as well. In addition, fellow historian friend Swapna Liddle has always been a wonderful guiding force in exploring new areas. Beeba Sobti while presenting Percival Spear's 'Delhi its monuments and history' wrote "In celebration for our dear old proud Delhi which has been a source of our most beautiful memories".
Besides Delhi, she is also looking at heritage and eco-walk trails & tours in and around Delhi which include Agra, Jaipur, Jain temples in Dilwara, Mount Abu, Shekhawati, Mussoorie, Doon valley, Shimla etc. Spiritual tours to Rishikesh, Haridwar, Mathura, Vrindavan and treks to Gangotri etc., all fall within her scope of work.
This, in brief, is how Surekha's walks get developed. To meet the organizer, explorer, creator and conductor – join her on one of her walks and experience her passion first-hand.
Bibliographies along with interesting features.

'Monument listings' by INTACH and Zafar Hussain's 'List of ASI' form the focal point to create a walk and explore areas of known and lesser-known sites.

Lucy Peck's book on 'Delhi : A thousand years of Building', has opened up new areas that would have otherwise gone unexplored.

For Old Delhi, '10 Easy Walks' by Gaynor Barton and Laurraine Malone are pre-requisite to explore the Old Walled City.

'Lalkot to Lodhi Gardens' by Ranjit Sinha add the features of archaeological, historical, architectural — all elements that are a must in the walks.


'Delhi Past and Present' by H.C. Fanshaw provide a clear insight to Delhi's history along with

Narayani Gupta's 'The Delhi Omnibus' and

'Delhi Then & Now'

Percival Spear's 'Delhi its monuments and history.
Delhi-based architect, C.S.H Jhabvala's pencil drawings and his knowledge of Delhi's history, buildings and streets is a sheer delight to read and visualize in 'Delhi Stones and Streets' along with the water colors 11. 'Old Delhi New York Personal views'. 

A true magnificence of the Havelis is felt in Vijay Goel's 'Delhi : The Emperor's City' and

'Havelis of Old Delhi' by Pavan K. Verma. 

More recent publications 'The Last Mughal' by William Dalrymple and

Rakshanda Jalil's 'Invisible City : The Hidden monuments of Delhi' (especially her residence areas of Green Park and Haus Khas) add a further dimension.

Some anecdotes from RV Smith from 'The Delhi that No-one Knows' and 'Capital Vignettes'  add to the flavor and spice.

Trees of Delhi: A field guide by Pradip Krishen

Wild City & The life & times of Altu Faltu by Ranjit Lal