To Travel With, founded by Kunal Jain is a travel company based out of Agra and Delhi. To Travel Withtakes their guests to off-the-beaten places of interest in India, focusing on the region's rich bio-diversity. To places and experiences that go beyond the TajMahalor the streets of Old Delhi. To Travel Withcan arrange (and accompany you) tours,safaris, transportation, stay options that are personally tried and tested by them.Some of their tours are mentioned below, but please check the website or contact Kunal for the latest. Bird-watching in Kumaon Hills, Uttarakhand – Get fresh air and brilliant views of the Himalayan range and go bird-watching in the lesser known parts of Uttarakhand. Read the Jungle Book?Now see it Live -Explore the diversity of Pench National Park, made famous in Rudyard Kipling's – the Jungle Book. In Penchyou can see not only the tiger but also wild dogs (dhole), wolves and the Indian Bison (gaur). You can go on a night safari too. Leopards and Folklore -Ideal photo tour for those who have not seen the elusive leopard up-close. See several species of migratory birds too
Wildlife and bird-watching in Kota –Cruise on one of India's last remaining 'alive' river eco-systems for a chance to spot otters, crocodiles, turtles, migratory & local birds (including 4 species of horned owls), leopard, sloth bear, tiger, wolves and more.


From Temple to Tiger – Visit Raneh Falls – the 'Grand Canyon' of India, the ancient temples of Khajuraho (optional) and visit Panna National Park – a lesser known National Park in Madhya Pradesh. Experience a Night safari too.


Go beyond the Taj -There is more to Agra than just the big marble of love. On your next visit to the Taj, pack in an extra day to see crocodiles, gharials (fish eating crocodiles) on the Chambal River, migratory birds and explore one of India's first protected reserve for birds – Keoladeo Bird Sanctuary in Bharatpur. You can also visit the bear & elephant rescue facility.
About Kunal
Kunal is originally from Agra but he has studied, lived and worked in Nainital (Himalayas), Germany, New York, Washington DC, Dubai and Singapore.In 2014, Kunal spent some time volunteering with the Wildlife Conservation Society (WCS) in the forests of South India. It didn't take him long to realize his passion lies in traveland wildlife and in 2015, he moved back to India. In 2017, he started To Travel With. More about him on LinkedIn: https://www.linkedin.com/in/kunaljain7/


ContactTo Travel With:

Email: kunaljain7@gmail.com
Phone: +91 9717148483
Website: www.totravelwith.com
Facebook: https://www.facebook.com/2travelwith/
Instagram: @totravelwith
Twitter: @totravelwith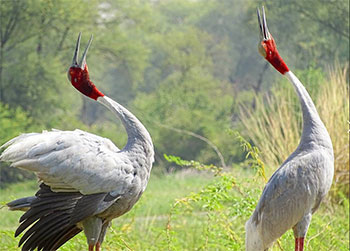 What others say…..
Testimonial 1
Claudia Holoch (Australia):
I had a great long weekend on the Chambal River with some excellent birdwatching and wildlife spotting opportunities. The variety of birds that can be seen on and over the cliffs of the river are a birdlover's dream and the expertise of the tour guides/naturalists was very helpful. The booked heritage accommodation in Kota was beautiful and the food abundant and tasty. They also took good care of me as a foreigner with special needs regarding food hygene. I can only recommend To Travel With for the special care they take in organizing their trips. You can tell that they are passionate nature lovers themselves.

Testimonial 2
Ran Levy-Yamamori (Israel):
I met with Kunal during the Dudhwa Birdfair. We connected immediately. His sensitivity, intelligence, knowledge, love for nature and humanity were immediately protruding. After the Fair, Kunal guided me to the nature of the Chambal and I was again impressed by his sharp eyes and deep knowledge. As I was really interested more in environmental issues, he really helped me to get to the places I wanted around Agra, and for me it was very meaningful and useful. I felt that Kunal is doing his work not only from his head, but may be mostly from his heart. Mostly recommended for anybody who wants to see India's natural heritage.